Home
»
Military Discounts & Veteran Deals
» Disney World Military Discount [updated]
Disney World Military Discount [updated]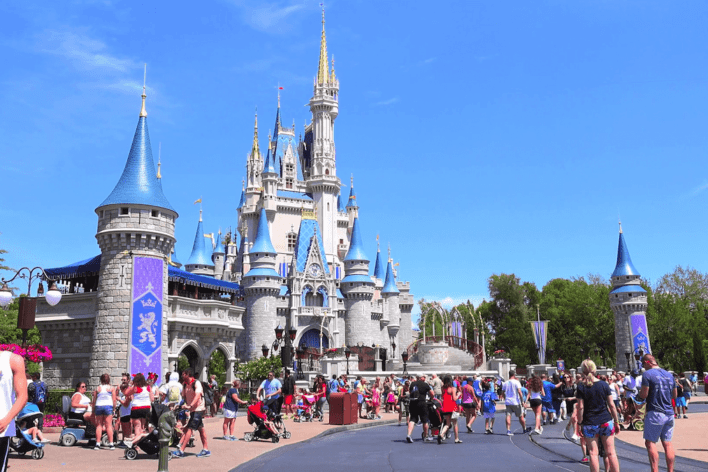 MyMilitaryBenefits
Walt Disney World Military Discount 
Good news! Walt Disney World has released its 2023 Disney Military Salute Tickets! You can choose between 4-day or 5-day. More details are below! 
The new Star Wars land, called Star Wars: Galaxy's Edge opened in the Fall of 2019. Mickey and Minnie's Runaway Railway, Lightning McQueen's Racing Academy, and a new Lion King celebration, are also new attractions you can find at Walt Disney World.
If you are looking for a fun, family trip to take, plan to go to Disney. Going to Walt Disney World makes for a magical, family vacation that is fun for all ages. And the best part? They offer an amazing military discount!
What is the Walt Disney World Military Discount?
At Disney World, you can choose between 4-day or 5-day Military Promotional Tickets. This means you can come and go through any of the four theme parks:
Disney's Hollywood Studios
Disney's Animal Kingdom
Magic Kingdom Park
Epcot
Park Hopper Plus includes: 
Disney's Hollywood Studios
Disney's Animal Kingdom
Magic Kingdom Park
Epcot
Blizzard Beach Water Park 
Typhoon Lagoon Water Park 
One round of golf  at Disney's Oak Trail Golf Course 
Walt Disney World Military Discount Prices
2023 Disney Military Salute Tickets
5-Day Disney Military Salute Tickets:
Purchase now through December 11, 2023! To be used from January 1st, 2023-December 15th, 2023.
With the Park Hopper Option: $369 plus tax
With the Park Hopper Plus Option: $399 plus tax
4-Day Disney Military Salute Tickets
Purchase now through December 12, 2023! To be used from January 1st, 2023-December 15th, 2023.
With the Park Hopper Option: $349 plus tax
With the Park Hopper Plus Option: $379 plus tax
How Much Am I Saving?
For comparison, here are the regular prices.
The average for a 4-day, Standard Theme Park Hopper Ticket is around $589.95 plus tax. A 5-day would be around $630.07 plus tax. Keep in mind the price varies based on the days that you go to the park. They do have a current deal from June 1-September 29th, giving you a 4-day, 4-park Magic Ticket deal for $396. 
As you can see, Disney is giving military families a great discount.
When Can I Use the Discount? 
For 2023, you can purchase the 4-day or 5-day tickets starting now through December 11th or 12th, 2023 to use from January 1st, 2023 through December 15th, 2023, except for blackout dates which are:
April 2, 2023, through April 15, 2023
November 19, 2023, through November 25, 2023
Who Can Buy the Disney World Military Discount Tickets?
You are eligible if you are one of the following:
Active US Military
Retired US Military
National Guard
Reservists
US Coast Guard
Commissioned Corps of the Public Health Service
Commissioned Corps of the National Oceanic and Atmospheric Administration.
Spouses of military service members can also buy tickets by presenting a valid military ID. The spouse can not get these tickets if the service member has already bought them.
The limit is 6 Disney Military Promotional Tickets per spouse or service member.  The service member or spouse must use one of those 6 tickets.
Can I Buy Tickets for Friends and Extended Family?
Yes, the Disney World military discount tickets can be purchased for friends and extended family. However, the service member or spouse must be there with them, at least on the day they are activated.
Where Do I Buy Disney World Tickets?
The service member or the spouse can buy the tickets at their local MWR/ITT Travel Office. You can also buy them at Shades of Green, the military-owned and operated resort at Disney World, at the Orlando ITT, and by phone/email through Shades of Green, the Patrick AFB ITT, or Camp Pendleton ITT.
Both a theme park reservation via the Disney Park Pass system and a valid theme park ticket for the same park on the same date are required for each person in your party ages 3 and up. Reservations are limited and subject to availability. After January 9th, 2024, you will no longer need a reservation. 
The service member or spouse will need to activate them at the Walt Disney World theme park ticket windows. Please note that each of the tickets must also be used by the same person on any and all days the tickets are valid.
What About Memory Maker?
Disney is offering a specially-priced Memory Maker. The Memory Maker is the Disney PhotoPass product at Walt Disney World.
The service member or spouse may purchase this at the Walt Disney World theme park ticket window. The limit is 2 Memory Maker product purchases at the special price.
Memory Maker includes photos that are taken during the Memory Maker Window. This is generally within 30 days after the first activation and linked to the guest's Disney PhotoPass account. A MagicBand will be required to receive certain attraction photos and other digital content.
The cost for 2023 tickets is $98 to use between January 1st, 2023 through December 15, 2023.
Whether you are going to Disney World or Disneyland, make sure you understand the terms and conditions of the tickets.
Is there a military discount on annual passes?
No, there is no military discount on annual passes. They are actually not allowing anyone to buy a new pass at this time. If you already have an annual pass, you can renew it if you do so in the correct time frame. 
Are there military discounts on hotels? 
Yes, you can get great rates on select Walt Disney World resort hotels for stays in 2023. See here for 2023 rates. 
Where Can I Get Discounted Food and Drink Inside Disney World?
Disney Springs
Scrolling through social media the day or night before your visit or on the monorail on the way to the hotel might come in handy. Follow your favorite restaurants and shops on Instagram or other social media outlets in advance! Many of the places in Disney Springs will post special promotions or discounts on their web pages for the next day.
Blaze Fast-Fire'd Pizza has offered free pizza and delivery as well as various other discount offerings just on their Instagram page.
Terralina Crafted Italian displays a preview of their daily and monthly specials, as well as promotions going on so Disney "Instagrammers" have an inside scoop on what is coming up next. 
Sprinkles Cupcakes hides secrets and clues in their Instagram story that can lead to free cupcakes and other dessert discounts.
Epcot
It may be your dream to drink around the world at Epcot but the price of that experience can be hefty. Ranging from $6 to $16 per drink, and multiplying that by the 10 countries that are showcased, the price of the drinks alone could send you running. Adding in meals, as well as making sure everyone is hydrated, the cost of a day at Epcot, or any of the other parks, can add up quickly. Knowing where and when to cut costs can keep the day fun and exciting.
Bring Your Own Food
Bringing in small snacks and a refillable water bottle will save you for the long walk between Germany and China. To ensure all of Disney's guidelines are met, they remind guests that you cannot bring large coolers or glass containers. For the Animal Kingdom specifically, you cannot bring in any plastic or balloons. You are allowed to bring in food and nonalcoholic beverages, just make sure that you inform a Cast Member upon arrival.
Splurge When Needed
Drinking around the world is a dream of many adult Disney goers, but budgeting for your experience is crucial. Getting the most visually pleasing drink that each country has to offer may not always live up to its grand expectations. Establishing a budget beforehand will help you to decide which drinks will be worth it. Looking at the prices of each drink and planning ahead for the drinks you want in each country in the showcase will be a great way to keep money in your pocket.
Saving Money Everywhere Else Inside Disney
Getting that perfect picture with your Dole Whip at Aloha in the Magic Kingdom or that Instagram worthy picture of Zebra Domes from the Boma dinner buffet inside Animal Kingdom is important, but knowing where to get those iconic desserts for a lower price is crucial. Be on the lookout for your favorite items at lower prices at counter service or fast casual stations.  The legendary clam chowder at the Columbia Harbor House can be found for $3 less at the Liberty Tree Tavern.
Purchasing an entree-only meal at the quick service stations will keep you and your wallet full, but if you still want your side of fries and a drink, ask someone you are traveling with to split the food. With most portions being doubled or even tripled, it will make sense to split your lunch, even if it adds an extra dollar to the cost. 
Eat your biggest meal at breakfast.  Most hotels within and outside of Disney offer complimentary breakfast with your stay, take advantage of it! Yet, if you want to make sure you are in line for the new Galaxy's Edge ride ahead of everyone else, you can still get breakfast at the parks. Historically, breakfast is the least expensive, and least crowded meal you can get while there. Another perk of having a big breakfast, you will be able to stay full until well after the lunch rush that hits right at noon.  
You can also visit the Disney World and Disneyland official sites for information.
RELATED: