Home
»
Benefits
» Comprehensive Military Benefits Guide
Comprehensive Military Benefits Guide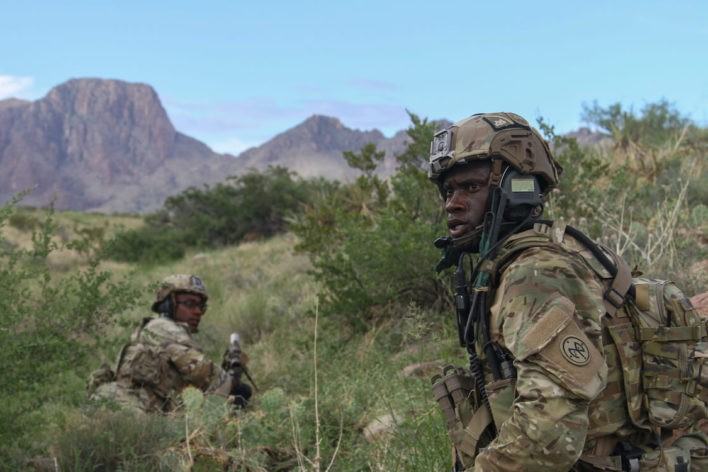 A Comprehensive Guide to Military Benefits
Joining the United States Military as a soldier, sailor, airman, Marine, Coast Guard member or Space Force Guardian means accepting a commission or taking an oath of enlistment. The oath describes the new servicemember's obligations to support and defend the Constitution of the United States against all enemies foreign and domestic.
But after the oath, these new troops learn about the benefits they have earned by taking the oath. What ARE the benefits of joining a branch of the uniformed services?
How do they differ depending on your status as an active duty service member, National Guard, or Reserve component? Do military spouses and dependent children get benefits too? In some cases, the answer is definitely yes. In other cases, the benefits may have qualifying requirements.
Below, we'll explore military benefits for all eligible applicants below, starting with active duty, Guard and Reserve, and finishing with information for spouses, dependents, and others who may qualify.
Military Benefits for Active Duty Personnel
Military benefits start with pay and allowances but also include healthcare, education, medical care, travel, free tax support, and home loans. Some benefits begin immediately, others require minimum time in service.
Some benefits cannot be accessed until the service member has completed Basic Training and any advance training required before getting a first duty station assignment.
Military Benefits During Basic Training
When you enlist or accept a commission, some benefits are open to you right away. Military pay begins when you begin your initial training, and so do medical benefits in the form of on-base care from a military facility. All new recruits are automatically covered by TRICARE health insurance when they ship out to basic training.
What you do not get right away includes the GI Bill, the VA home loan, spouse tuition assistance, access to on-base child care, military leave, Space-A travel, and special pay/allowances like hazardous duty pay and proficiency pay.
Read More: Military Benefits Offered During Basic Training
Military Allowances
Depending on your duty station, the nature of the duty, your branch of service, and other variables you may be offered a range of military allowances to offset certain costs associated with relocating to and working at a new assignment, deployment, TDY, etc. These allowances may include:
Basic Allowance For Subsistence
Housing allowance (overseas and stateside)
Other "situational" allowances (Cost of Living, Family Separation)
Clothing allowances
Basic Needs Allowance
Most of these allowances must either be approved by your chain of command, or you must apply to begin the approval process. The branch of military service, the type of allowance you need, and your rank will all play a factor in determining how much you are entitled to and when.
Many other special pay and allowance options may be offered to you depending on your rank, your career field, and other variables. Many of these must be qualified for through specific service, testing (language proficiency testing is one of those), and experience.
Others may be offered by virtue of being assigned to a certain location (hazardous duty pay is one of those) or because a career field is understaffed and needs retention incentives.
Read More: Military Allowances Guide
"Situational" Military Allowances
Some military allowances are offered if the military decides you need them in specific circumstances. For example, a Cost of Living Allowance (also known as COLA) supplements basic pay in areas overseas where the cost of living is higher. Overseas assignments like Japan, for example, have traditionally featured COLA to make being stationed there more affordable.
Another situational allowance is FSA, also known as the Family Separation Allowance. This is paid to those who must perform duty away from their family.
This allowance is paid for those who are involuntarily assigned away from home and is not offered for those who volunteer to serve elsewhere. Situational allowances (our term, not the DoD's) are paid when the service member meets the required conditions and is no longer paid when those conditions are no longer met.
Read more: Comprehensive Assistance For Family Caregivers
Military Housing & Housing Allowances
Some will qualify for a Basic Allowance for Housing stateside or an Overseas Housing Allowance.  What does it take to be approved for these housing allowances?  Sometimes, it's a simple matter of being assigned to a new base and not being given government quarters. In others, deciding which option works best for you may be the case. But what about those offered government quarters as single or married service members?
Some military members may qualify for on-base military housing. Some are offered this as single/unaccompanied service members, others are offered military family housing designed for legally married couples and any dependent children.
You may be offered on-post housing run by the DoD (getting rarer all the time), or you may be offered housing on base or off-run by a public/private venture agreement between the federal government and a private housing provider.
If you draw BAH and live off base, you may or may not have the option to choose on-post housing later. Much depends on the assignment you're at and the available on-base units at the time.
Single and unaccompanied service members who are not offered BAH are usually housed in "the barracks", which in today's sense are more like college dorm rooms (depending on the location, housing conditions, and quality in these facilities can vary greatly) than what you might envision a barracks environment to be like. Your options may include:
Government-owned on-base housing
Privatized on-base housing
Single or unaccompanied quarters
Read More: Military Housing Allowances (BAH and OHA)
Basic Needs Allowance (BNA)
BNA is considered a "supplemental monthly payment" meant for qualifying "large military households with low income."
BNA is a need-based allowance and eligibility is determined by calculating a service member's gross household income from last year and the current year's gross income.
Both must fall below 150% of Federal Poverty Guidelines for their assigned duty station location and household size, according to the Defense Finance and Accounting Service.
Read more: Basic Needs Allowance
VA Home Loans
The VA Home Loan benefit is offered to those who serve a minimum amount of time in uniform after completing initial training. VA loans typically require a minimum of 90 days of continuous active duty service but if you joined in an earlier "service era" than the current Gulf War era, your time in service minimums might vary.
Read More: VA Loan Basics
Get a free, no-obligation consultation regarding your VA Loan!
Zero Down Payment Options for VA Loans
VA mortgages offer zero-down payment options, no VA-required mortgage insurance, and no penalties for paying off the mortgage early. You may have the option of using a VA mortgage to build a home from the ground up, purchase a condo unit or mobile home, and you can use VA mortgages to purchase mixed-use properties that are primarily residential. VA mortgages limit certain costs the lender can pass on to you, the zero-down option is a huge advantage for many buyers, and you cannot be penalized for early payoff of the home loan.
Read More: The VA Home Loan Guide
To apply for a VA loan, you must first get a VA Certificate Of Eligibility and apply through a participating lender. Eligibility for the VA loan program is not the same as VA loan approval, and you are required to credit-qualify for a VA loan the same as any other mortgage program.
Read More: The VA Loan Certificate Of Eligibility
Qualifying for the VA loan benefit does not mean instant loan approval. You must credit-qualify for a VA mortgage the same as any other major line of credit. That said, VA loans are easier to get than some conventional mortgages because they have more forgiving credit standards.
Read More: VA Loans: Why Credit Scores Matter
VA Loans allow you to buy, refinance, renovate or build a home from the ground up. You can buy property in the United States or in its territories, but VA loans cannot be used to buy property overseas.
Read More: Questions and Answers About VA Home Loans
>> Interested in a no PMI, zero down payment possible home loan?  For a no-obligation, free consultation regarding your VA Loan eligibility, please go here.
Basic Allowance for Subsistence (BAS)
What is the military's Basic Allowance for Subsistence, informally known as a Subsistence Allowance or BAS? This is a tax-exempt military allowance designed to offset the cost of a service member's meals. BAS, also known amongst some service members as "separate rations" or more derisively as "separate rats", is a callback to the days of old when the United States Military and other military forces offered both room and board for its troops.
BAS is offered when the federal government declares that an assignment or duty location warrants the allowance due to a variety of factors which can include the availability of kitchen facilities for service members to use, the cost of food or food-related expenses for the service member, and whether or not the command feels it's practical or necessary to provide BAS.
BAS Is for Service Members Only
BAS is offered to the servicemember only. Family members (spouses included) do not qualify for BAS as this is an allowance designed to offset any associated food costs with a new duty station, deployment, duty-related travel, etc.
BAS is based on the most current food cost estimates made by the federal government via the USDA Food Cost Index, and the rate of payment is based on your status as an officer or enlisted member.
BAS is one of the rare cases where military pay and allowances are actually higher for enlisted members. Officer pay is considerably higher than enlisted pay; officers are thought to be better able to afford their day-to-day living expenses as a result. That is why enlisted members get more food dollars. Like most military allowances, BAS is subject to annual adjustments based on the anticipated increases in food costs yearly. But the BAS increase you get is not tied to the same factors used to determine military pay raises each year; these are separate processes.
Read more: Military Allowances Guide
GI Bill
The GI Bill is one of the most important and most-used military education benefits. This option is open to currently serving, retired or separated, Guard and Reserve members, and even some dependents. GI Bill options for active duty service members include the ability to transfer the GI Bill to a spouse or school-age dependent child.
You are required to serve a minimum time in uniform before you can apply for GI Bill education benefits. For those on active duty today, the minimum is typically 90 days, which may vary depending on when you joined the military.
Read More: Am I Eligible for VA Education Benefits?
The GI Bill pays tuition, fees, and other expenses at participating schools. You may find the entire cost of your basic education is covered in some cases. In others, you may need supplemental assistance from options like the Yellow Ribbon Program, state veteran education resources, etc.
Read More: The Yellow Ribbon Program and how it can enhance your GI Bill.
Find GI Bill-approved schools for military, veterans, and spouses!
Not all GI Bill options are the same. If you signed up for the Montgomery GI Bill, for example, you do not have the option to transfer your benefits to a spouse or school-age dependent. If you signed up for the Post 9/11 GI Bill, you may have the option to do so, but an added service commitment may be required in exchange. Some may be offered the opportunity to switch from the Montgomery GI Bill to the Post-9/11 version. Once you make the switch, it is irreversible.
Read More: GI Bill Facts and Fiction
There were many changes to the GI Bill thanks to a piece of legislation known as the Forever GI Bill, which is a law and not a separate, new GI Bill option all by itself. The Forever GI Bill changes the way benefits may be transferred and used, how Post 9/11 GI Bill housing stipends are paid, and more.
Read More: How the Forever GI Bill Changed Your Military Education Benefits
There are GI Bill options for members of the Guard and Reserve, and the requirements for these troops differ from those on active duty. It's good to know your options long before you want to use them as a Reserve component member.
Read More: Veteran Education Benefits Guide
Other Military Education Benefits
Military Education Benefits
Branch-specific tuition assistance programs and on-base education options include:
Air Force Tuition Assistance
Army Tuition Assistance
Navy Tuition Assistance
Marines Tuition Assistance
Coast Guard Tuition Assistance
National Guard Tuition Assistance
Reserve Tuition Assistance
These programs are offered to those who meet minimum time-in-service requirements and other criteria. For example, the Air Force paid 100 percent of tuition, up to $250 per semester hour, and $166 per quarter hour for accredited off-duty courses.
The rules for each Tuition Assistance program will vary depending on the branch of service; in the case of the Air Force, no more than 124 semester hours may be funded toward an undergraduate degree and no more than 70 semester hours may be funded toward a graduate degree. Some military tuition programs specify that only one degree per degree level (undergraduate, graduate, etc.) may be funded.
All military tuition assistance programs have minimum grade point average requirements. Those who fail to maintain satisfactory progress may be required to pay back some or all tuition assistance depending on circumstances. This type of assistance may not be offered to troops with disciplinary issues, failed fitness tests, or other problems.
Read More: How to Use Military Tuition Assistance
Education Benefits for Disabled Veterans
There are also military education benefits offered specifically to help disabled veterans. These are typically offered at the state and local levels. You may find that these programs are sometimes administered by veteran service organizations and in others by a state government agency such as a state-level Division of Veterans Affairs or Department of Veterans Affairs (not the federal agency).
These programs' features, qualifications, and application requirements are NOT standardized and will vary depending on the state, the agency, and other factors. In some programs, it may be the veteran and/or dependents who benefit; in others, it may be the veteran only or the spouse alone. In others, benefits may be offered only to dependent children of qualifying service members.
Read More: Education Benefits For Disabled Veterans
Healthcare
The basic rule of thumb for military healthcare: those currently serving on active duty enroll in TRICARE for health coverage for themselves and immediate family members. In general, active duty service members and their families do not receive care from the Department of Veterans Affairs. However, some service members are encouraged to begin working with the VA when they obtain retirement or separation orders.
Active duty members and their families may be treated at an on-base medical facility or an off-base facility that is within the service member's TRICARE network. Overseas your options may depend more on the on-post treatment options provided, but this is not necessarily true in all cases. Much depends on where you are stationed, for how long, and the nature of your assignment.
TRICARE
On-base medical care is an option for servicemembers and their families.
There are a variety of TRICARE options, including:
TRICARE Prime
TRICARE Select
TRICARE Prime Overseas
TRICARE Select Overseas
TRICARE may be an option for some qualifying military retirees. Those who are retired or separated can apply for VA healthcare options, which may depend on the applicant's medical condition, any VA-rated service-connected medical issues, and more. When you are an active duty military member transitioning out of military service, you may have the option to get temporary TRICARE coverage when separating, dependent care included.
Read More: TRICARE Benefits: A Comprehensive Guide
Life Insurance (SGLI)
If you are currently serving, you are eligible to apply for Servicemembers Group Life Insurance or SGLI. This benefit does require you to make a minimum monthly payment that is set based on the amount of life insurance coverage you opt into up to $400,000.
At press time, the highest monthly payment is listed as $25 per month for the maximum coverage for $400k. SGLI payments are automatically deducted from your base pay amount each month. You must meet eligibility requirements to sign up for SGLI. This benefit is for service members only and does not provide life insurance coverage for any member of your family. This is a "contingency" type benefit that provides a life insurance payout to your surviving beneficiaries if you die while covered.
Read More: Who Is Eligible For SGLI?
If you are retiring or separating from military service, you have the option to continue this life insurance coverage under a different program called Veterans Group Life Insurance or VGLI.
You become eligible to apply for VGLI within a year and 120 days from your date of discharge. You may apply for an amount up to the same coverage you had through SGLI.
Military Life Insurance Alternatives
SGLI is an important military life insurance benefit, but what about military life insurance after you retire or separate from active duty? Veterans Group Life Insurance (VGLI) is one option that offers a no medical exam life insurance policy if you apply within a year and 120 of leaving the military. Those who apply after this window of opportunity may still qualify for VGLI but may be required to undergo a medical examination.
There are also private life insurance options for military members who feel VGLI isn't enough to protect their families financially.
Read more: Private Life Insurance for the Military Community: A Comprehensive Guide
Travel Benefits
Space-A Travel (active duty Space A)
Space-A travel is an option for active duty military members, family members, and retirees. Short for "Space-Available", Space-A is an option that lets you apply for empty seats on military aircraft flying missions approved for extra passengers.
Space-A flights originate from military bases, and you sign up for seats on these flights at the base military passenger terminal or online at the official site for that terminal or command. You may be permitted to sign up via e-mail or online.
Some Space-A flights are dedicated back-and-forth trips between military bases in a specified area, others may be added to the Space-A roster last minute based on changes to a mission or its requirements.
Signing up for Space-A travel means you must have authorized leave paperwork if you are a military member, and there is seating priority on all Space-A flights requiring mission-essential travel to be prioritized first, followed by passenger categories from Category I (those on Emergency Leave orders) all the way down to Category Six, which includes:
Retirees
Dependents
Reserve members
ROTC, NUPOC, CEC
Veterans with a total Permanent Service-connected Disability
Surviving Spouses of Service Members who died on duty
Space-Available travel is a great perk of military service but seats are never guaranteed to non-mission-essential personnel. You must be prepared to fully cover the cost of a commercial flight back to your duty station if you cannot get a seat on a Space-A flight.
Space-A flights typically originate and end at an on-base airport or runway. You won't fly into a commercial airport, and you'll be responsible for your own travel once you are shuttled off of the runway or allowed into the passenger terminal.
Read More: Space-A Travel: Everything You Need To Know
Paid Vacation/Military Leave
You'll earn 30 days a year plus some holidays, starting in your first year. Servicemembers accrue leave at a rate of 2.5 days per month and you can carry a maximum of 60 days of leave into the new year. Any amount above 60 days is considered "use or lose" time. In some circumstances, additional leave accrual beyond 60 days may be authorized such as during COVID-19 when travel and movement became severely restricted.
Military members may, on a case-by-case basis, be permitted by their chain of command to take leave in excess of what they have saved up. For example, if you have 30 days of leave and take 35 days (with prior authorization) you may be permitted to do so with the caveat that you cannot take MORE leave until you have earned it in full. This is sometimes known as "advance leave" and functions a bit like an advance in your pay (in spirit, not in practice).
Advance leave is commonly reserved for those who need to "resolve urgent, personal, or emergency situations" according to the DoD.
Advance leave is limited to the minimum necessary and is typically limited to the lesser of the following:
30 days
The amount of leave that can be earned during the remaining period of active service
If serving on an extension, accrued prior to the member's date of separation.
Read More: How Military Leave Works
AAFES, Commissary Access
Military members and their families have access to many perks of military life, including the ability to shop on base or on-post tax-free at Army/Air Force Exchange Service (AAFES) outlets, base commissaries, "Class Six" liquor stores where available, gas stations, and much more. Depending on which branch of service is responsible for a given post or installation, you may find options including:
AAFES (Army and Air Force Exchange Service)
MCX (Marine Corps Exchange
NEX (Navy Exchange Service Command)
CGX (Coast Guard Exchange)
Exchanges are basically like big-box retailers like Target or Walmart. You'll find a similar variety of options there including clothing (military clothing sales, too!), electronics, household items, and sometimes even motor vehicles.
Not all amenities are offered at all installations, but the bigger the base the more elaborate the options are likely to be. To enter an on-base commissary, Base Exchange (BX), Post Exchange (PX), or other facilities you must show a current military ID card, dependent ID card, etc. You may be carded for all purchases on post to verify your status as an authorized user but that is a small inconvenience.
Read More: Commissaries And Exchanges: What You Need To Know
Tax Support
There are a number of free tax support options for military members and their families. MilTax is a military-centered tax software program that walks you through a list of questions to determine which military-related tax issues may be present for the current year's tax filing. You access MilTax through the DoD-funded Military OneSource official site.
There is also an option you can use on-post if offered there; the VITA Program, also known as Volunteer Tax Assistance. While this is not offered at every single military base in the DoD, it is offered at many of them and you can use a VITA locator to see which bases closest to you offer the option.
Read More: Free Tax Support For Military Members
Military Benefits for Spouses and Dependents
Some military benefits for spouses and dependents are available regardless of the involvement or status of the service member. Others may require the participation of the service member (transferring GI Bill benefits, for example) or require troops to apply through the chain of command or other processes on behalf of the spouse or dependent.
In other cases, such as with medical care, you may only have to provide your current military spouse or dependent ID to get, use, or continue to use the benefit.
Education Benefits (including GI Bill transfer)
Home loans
TRICARE
Career assistance
Spouse Employment Preference On Base
Education Benefits for Military Spouses and Dependents
There are a variety of education benefits for military spouses. Some benefits are not provided by the military, but by private enterprises, Veteran Service Organizations, or other non-government entities. This section features military education benefits for spouses provided by the federal government.
They include Post 9/11 GI Bill benefits which must be transferred from the servicemember's name to the dependent or spouse. This can only be done while the servicemember is still under a military service commitment and a new service commitment must be made for the GI Bill benefits to be transferred.
Spouse Education and Career Opportunities (SECO) is a DoD-funded resource military spouses can use if they want to plan a return to academia. SECO features a variety of resources including a scholarship finder and there is a MyCAA Scholarship worth up to $4,000 for qualifying spouses looking to return to school. You'll find SECO at the MilitaryOneSource official site.
The Marine Gunnery Sergeant John David Fry Scholarship is offered to qualifying spouses and children who are survivors of one of the following circumstances:
Active-duty service members who died in the line of duty on or after September 11, 2001;
Selected Reserve members who died from a service-connected disability on or after September 11, 2001
Discuss the Fry Scholarship with a representative of your selected school or institution. Not all schools are approved for this program and you'll need to determine if the opportunity is available before you discuss applying for the Fry Scholarship with your admissions counselor.
>> For more scholarships for military spouses and dependents, please use the CollegeRecon Scholarship Finder.
The VA Survivors' and Dependents' Educational Assistance (DEA) is a federal program offering education and training to qualified dependents of vets who are either permanently disabled due to military service or who died on active duty as a result of military service.
Are permanently and totally disabled because of a service-related condition, or
Died while on active duty or as a result of a service-related condition
Discuss VA DEA with a representative of your selected school as not all schools are approved for this program. It's best to determine if DEA is an option option to you before you discuss applying for DEA with your admissions counselor
Read More: VA Survivors' and Dependents' Educational Assistance
Home Loans for Military Spouses
The VA Loan program offers no-money-down, low-interest home loans to qualifying servicemembers. It also allows service members and spouses to apply for a VA mortgage together, treating the loan application differently than if a veteran and a non-veteran who is not a spouse were to apply together.
There is no VA home loan option for the spouse alone. There are exceptions in cases where the service member has died. In such cases, the qualifying criteria include at least one of the following:
The Veteran is a prisoner of war (POW)
The Veteran is missing in action (MIA)
The Veteran died while in service or from a service-connected disability and you didn't remarry, or
The Veteran died while serving, or from a service-connected disability. In such cases you must not have remarried before you were 57 years old or before December 16, 2003, or
The Veteran had been totally disabled and passed away.
If you are claiming VA home loan benefits as a surviving spouse, you will need to contact the Department of Veterans Affairs directly if you assist with the application, VA Form 26-1817 Request for Determination of Loan Guaranty Eligibility—Unmarried Surviving Spouses.
Read More: Questions and Answers about VA Home Loans
TRICARE Benefits for Military Spouses and Dependents
Active duty service members are required to enroll in a TRICARE plan that is based on the location of their duty station. TRICARE Prime and TRICARE Remote are the stateside plans, and TRICARE Prime Overseas and TRICARE Prime Remote Overseas are the basic plans the servicemember can choose to enroll their spouse and/or dependents in.
Read More: TRICARE Basics
Family members also have the option to select other TRICARE options based on the location they are in. Those options include, but may not be limited to:
TRICARE Select is described as a "self-managed preferred provider organization (PPO)" plan offered to those in the United States
US Family Health Plan is offered in select locations only. This is described on the TRICARE official site as "an additional TRICARE Prime option available through networks of community-based, not-for-profit health care systems".
TRICARE For Life is described as "Medicare-wraparound coverage for TRICARE-eligible beneficiaries who have Medicare Part A and B."
TRICARE Select Overseas offers "comprehensive coverage" for those in overseas locations.
There are more flexible options offered to spouses and dependents, likely because it's understood that some may already have health care options through an employer or school; the additional healthcare options for spouses and dependents are designed to accommodate this depending on the plan and the nature of your coverage.
Read More: TRICARE For Spouses And Dependents
Career Assistance For Military Spouses
There are multiple types of career assistance for military spouses, starting with spouse hiring preference. The Department of Defense has a federal hiring preference program aimed at military spouses, but if you have not explored your options for this preference recently you may not be aware of certain changes to the program that benefit all applicants.
Before 2019, the DoD used the Priority Placement Program to register military spouses so they could claim their federal hiring preference. But that program entered the sunset phase in 2019 and no longer operates. Does that mean there is no longer a preference program? No.
The replacement option, known as Military Spouse Preference or MSP, is described by the Defense Department as a "special federal hiring authority that allows spouses to be noncompetitively considered" for federal positions. MSP does NOT require an in-person appointment to get started, unlike the previous PPP option.
Now, military spouses simply identify themselves as candidates for MSP when they apply for federal work using USAJobs.gov. This is an advantage for spouses who know they will be going overseas soon but don't know what assignment yet.
MSP also eliminates a past requirement limiting applicants to a single "occupational series". You can now choose any job that offers MSP, rather than being limited to a specific area of expertise.
This is not the only career assistance type benefit offered to military spouses. Other options include the USO Pathfinder Transition Program which offers professional development options for military spouses that can be used "throughout the duration of military service as well as in preparation for life post-military" according to the USO official site.
The U.S. Department of Labor offers TEAMS or Transition Employment Assistance for Military Spouses and Caregivers. This typically consists of employment workshops to help military spouses meet their career goals.
TEAMS workshops are instructor-led virtual training, provided as stand-alone training. modules. You can take all of the workshops or just a few and they can be taken in any order that fits your availability and schedule.
There are also options for military spouses who accompany active duty service members to overseas duty locations, including spouse hiring preference. To apply for preference at an overseas base, contact the Human Resources office at the base and explain that you need information on spouse hiring preference policy for that installation.
Read More: Overseas Military Spouse Career Options
Child Care
The Department of Defense offers affordable childcare access to military and DoD-affiliated families. These programs are offered at military bases around the world, and while not every single base has child care options (forward deployed, remote assignments, and hardship assignments for example) the majority of troops and their families may be able to take advantage of these DoD child care options.
Options include:
Child Development Centers
Family Childcare
"24/7 Centers"
School Age Care facilities
The "Military Child Care in Your Neighborhood" program
Who Is Eligible for Military Child Care?
Military affiliation is one of the requirements for military child care. Children enrolled in a DoD program must be the dependents of "eligible sponsors" including parents who are active duty military, DoD civilians, Guard/Reserve members who are on orders, Gold Star spouses, and many others.
Childcare costs are assigned based on household income, which makes this a benefit that can make a big financial difference for junior enlisted troops. Signing up for military child care means contacting the base Child Development Center where you are stationed or where you will be reassigned to.
You can use a DoD search tool at MilitaryChildCare.com to locate military child care options anywhere offered in the world, and you'll want to do this as soon as you get PCS orders as demand for military child care is high and waiting lists typically apply.
The sooner you get your name on the waiting list the sooner you can get access to affordable military child care.
School Age Care facilities are offered on many military installations; these programs are for those in kindergarten through sixth grade. Care is available before and after school, and even for non-school days and summer vacations. Many of these programs are run from base youth centers or Child Development Centers, and all are certified and accredited.
Many military bases feature other after-school options and other programs for school-age children who are too old for Child Development Center care. These programs vary depending on the base but in general, you may find options including:
Installation youth center programs
4-H Military Partnerships
Defense Department summer camps
Military Kids Connect (a website designed to celebrate military youth and help them cope with military life)
Read More: Military Childcare Basics
Military Benefits for Guard and Reserve Members
Some benefits require a minimum time in uniform to access, others may take effect immediately. The benefits for members of the Guard and Reserve differ from active duty benefits for a number of reasons, including the fact that these jobs are essentially part-time during much of the year unless there is a deployment, field training, unit activation, etc.
Pay and Allowances
Education benefits
Home loans
TRICARE
Job Certification
Retirement
Guard/Reserve Component Pay And Allowances
There are special pay and allowance options that may be offered to you depending on your rank, your career field, and other variables. When you join the National Guard or the Reserve, you make a part-time commitment to military service. That means your time commitment isn't the same as an active duty soldier, sailor, airman, Guardian, Marine, or Coast Guard member.
That also means your pay is part-time, too. Naturally when a member of the Guard or Reserve is deployed, activated, or otherwise called to active service, the pay changes to active duty, too. But while you serve under "normal conditions" during peacetime, your service is limited to weekend drills, active duty for training, and other activities as required.
If you need to know your state's National Guard pay rates, you can check the official site of your state's National Guard, or you can check by branch of service. For example, the Air National Guard official site features a pay calculator to help you estimate your National Guard earnings in advance. (Scroll down to Pay Calculator.)
Guard/Reserve Education Benefits
The Montgomery GI Bill is an option that was offered at one time to all new recruits. Today that program has been replaced by the Post 9/11 GI Bill but some may still qualify to use the MGIB-SR:
You may qualify for the MGIB-SR if you're a member of one of the following Reserve Components:
Army Reserve
Navy Reserve
Air Force Reserve
Marine Corps Reserve
Coast Guard Reserve
Army National Guard
Air National Guard
The following must all be true for you to qualify:
You have a 6-year service obligation in the Selected Service OR;
You are an officer in the Selected Reserve serving six years (that is in addition to your initial service obligation) AND;
You meet what the VA calls " other requirements" which may include finishing initial active duty for training (IADT), and you are in good standing in a Selected Reserve Unit.
Your obligation must have started after June 30, 1985, or for some types of training after September 30, 1990.
If you qualify for the GI Bill under any of these circumstances, you'll want to learn more about your options to use these benefits–you can make an appointment with a college admissions counselor or contact the VA directly to learn more about what is possible.
In addition to the GI Bill, you may also qualify for Military Tuition Assistance from the Guard/Reserve, though not all branches of service offer the benefit to reserve component members. Where offered, you may find that 100% of your tuition expenses are covered for classwork totaling $250 or less per semester hour or the equivalent.
Read More: GI Bill Facts and Fiction
Guard/Reserve VA Home Loan Benefits
VA home loans are offered to those who serve enough qualifying time in the Guard or Reserve (see below). There are major advantages to using a VA home loan as a Guard member or Reservist. One of these is the no-money-down mortgage option. Another is the fact that you cannot be penalized for early payoff of the mortgage (including refinancing) and you cannot be required to purchase a home that appraised lower than the asking price even if you have paid earnest money.
Who qualifies for a VA mortgage among members of the Reserve Components? Those who:
Served for 90 days or more on active duty during a wartime period, OR
Were discharged or released from active duty for a service-connected disability, OR
Have six years of service in the Selected Reserve or National Guard, AND were honorably discharged, placed on the Standby list or transferred to Standby Reserve or Ready Reserve, or who continue in the Selected Reserve.
Read More: Best Practices for the VA Loan Process
Guard/Reserve Health Care and Insurance
Members of the Guard and Reserve may be eligible for TRICARE. You are required to create or maintain an account on the Defense Manpower Data Center or MilConnect to verify eligibility for TRICARE Guard/Reserve plans such as Line of Duty Care, Active and Inactive care, and options for those who are retiring.
Read More: TRICARE for Guard and Reserve Members
Furthermore, members of the Individual Ready Reserve (IRR) may have the option to purchase dental coverage but typically do not qualify for other TRICARE benefits unless on active duty orders OR recently deactivated.
Read More: Guide To TRICARE
Guard/Reserve Job Certification
Depending on the branch of military service, the nature of your career field, and whether you serve in the National Guard or the Reserve, you may be offered job certification that is related to your military job. For example, the Army National Guard offers certification in areas that include:
Certified Defense Financial Manager (CDFM)
Six Sigma Black Belt (SSBB)
CompTIA Security+
Certified Information Systems Security Professional (CISSP)
Microsoft Certified Professional (MCP)
EMT/Paramedic
Pharmacy Technician Certification Board (PTCB)
The nature of military service in the National Guard means that the state where you serve plays an important part in the nature of your benefits in this area. Not all states offer the same funding or certification options.
The situation is different for Reservists as these troops operate on the federal level rather than the state level. That means benefits for Reservists are more standardized. They also depend on the branch of service you are in; Air Force Reserve job training is more focused on mission-essential needs but you may find that the AF Reserve offers help with student loans and other civilian-based opportunities.
Guard and Reserve Retirement Benefits
Those who serve enough "creditable years" of military service in the Guard or Reserve may become eligible to apply for a military pension and become military retirees.
Unlike those who serve on Active Duty for 20 years who get to start enjoying retirement pay immediately once they have "dropped papers", members of the Guard and Reserve must wait until they reach a certain age to start receiving military retirement pay.
Read More: Retirement Pay for Guard and Reserve Members
Military retirement for National Guard and Reserve members has changed thanks to laws passed in the 2008 National Defense Authorization Act. The Act in part reduced the age those in the Ready Reserve can start receiving retirement pay.
Normally the retirement age is 60, but now, your retirement age is lowered by three months for every 90 days of active duty after 28 January 2008. Further changes in 2015 allow that 90-day period of active duty to stretch over two successive fiscal years.
Drawing retirement pay is NOT automatic. You must apply for it and be approved for it.
Benefits for Those Who Have Retired or Separated from Military Service
There are benefits for military retirees, and benefits for veterans who have separated from the military without retiring. Those who retire typically have more options than those who separate but that doesn't mean a lack of certain options for those who separated before getting enough time in service to apply for retirement.
Military retirees draw a pension after performing the minimum amount of military service, which is 20 years at press time. Military retirees in the Guard and Reserve have different rules for "getting their 20" or earning 20 "creditable years" toward military service but a retirement check is definitely possible for those who serve part-time.
Read More: Retirement Pay for Guard and Reserve Members
Those who separate from the military without hitting their 20-year service mark are typically not offered retirement pay unless they have taken an early retirement offer that is sometimes provided in times when the military is trying to "draw down" or reduce its troop numbers.
But those who separate but do not retire still have certain benefits offered to them. Both retirees and those who return to civilian life without retiring may be eligible for a variety of benefits from the Department of Veterans Affairs. They can include, but may not be limited to:
VA Pension
Counseling and Career Support
There are other benefits. One important one for some? Those who have retired or separated are now permitted to live with their families in private on-base housing in the United States. Overseas locations are not included, but for those using this option in the USA, you will pay rent at a rate based on the local Basic Allowance For Housing.
Why is this allowed? More and more on-base housing is being privatized or has already switched to a public/private arrangement.
Government housing contractors are permitted to rent these homes to those who have retired or separated when sufficient vacancies exist. This option is not available at all bases, and the contracts may be limited to a year, depending on circumstances.
VA Disability Compensation for Military Retirees
VA disability compensation for military retirees works the same as for those who did not retire but separated from military service. You must make a claim with the Department of Veterans Affairs, and submit medical records, service records, and supporting documentation.
There is no separate track for military retirees for this process. But being eligible to draw a military pension has in the past been problematic for those who also seek VA compensation for service-connected disabilities. Why?
Because until 2004, retirees were not allowed to draw both military retirement and VA compensation. Those eligible for both had to choose which to receive. Starting in 2004, there was a VA transition that eventually ended in 2014. Today you are permitted to receive both payments concurrently. 
There is no need to apply for approval to receive both, those eligible to do so get both payments automatically once the paperwork for each is completed and approved.
Military retirement pay is NOT the same as a VA pension, which is described below.
VA Pension
Regardless of whether you retired or separated from the military, you may qualify for a VA pension if you meet certain requirements. You must meet some basic requirements to be considered, which include not having a Dishonorable discharge and meeting basic income and net worth limits.
There are other considerations. To be approved for a VA Pension, you must have:
Started active duty before September 8, 1980, and you served 90 days or more on active duty with at least one day served during a wartime period. OR;
Started on active duty (enlisted) after September 7, 1980, and served at least 24 months OR the full period you were ordered to serve on active duty with at least 1 day during wartime. OR;
Started as an officer on active duty after October 16, 1981, and you had not served previously on active duty for at least 24 months.
And finally, to qualify for a VA pension at least one of the following must apply to you:
You are 65 years old or older.
You have a permanent and total disability.
You're a patient in a nursing home for long-term care due to a disability.
You're getting Social Security Disability Insurance.
You're getting Supplemental Security Income
Eligible wartime periods for the VA Pension include, as described on the VA official site, the following:
Mexican Border period: May 9, 1916, to April 5, 1917
World War I: April 6, 1917, to November 11, 1918
World War II: December 7, 1941, to December 31, 1946
Korean conflict: June 27, 1950, to January 31, 1955
Vietnam War era: November 1, 1955, to May 7, 1975,  August 5, 1964, to May 7, 1975, for Veterans who served outside the Republic of Vietnam.
Gulf War era: August 2, 1990, through a future date to be set by law or presidential proclamation.
If you need to register for a VA Pension, fill out the online forms at the VA official site. The Department of Veteran Affairs offers a "pre-filled" form that populates some (but not all) of the application fields with information based on your account information with the VA.
You can save the application as you go but there is a time limit; you have 60 days from the start of your application process to the time you submit–after 60 days your application is deleted and you must begin again.
To apply you must gather any supporting medical evidence needed for your claim, and you will need to supply your medical records, financial information, history of military service, your Social Security Number, and any supporting evidence to reinforce your claim.
VA Pension Versus VA Compensation
The Department of Veterans Affairs offers qualifying veterans a choice between drawing a VA pension and collecting VA compensation for service-connected medical issues.
The basic differences include the fact that VA pension benefits are for those who served during wartime and the pension is need-based, where VA disability pay is offered to all who have qualifying service-connected medical issues no matter when they occurred in peacetime or wartime. Eligibility is not need-based but is determined by the nature and severity of the medical issues.
The VA official site reminds us in no uncertain terms: you cannot qualify for VA pension payments and disability compensation at the same time. The Department of Veterans Affairs will pay you whichever amount is greater, but not both.
VA Medical Benefits
Whether you have retired or separated, if you intend to make a claim with the Department of Veterans Affairs for compensation due to a service-connected injury or medical condition, you will need to formally apply with the VA.
There are procedures you will need to follow, evidence to collect, and records to gather. The basic claim process does not change based on your status as a retiree or as someone who has simply separated from military service.
Read More: Five Tips for Applying for VA Disability Benefits
VA Home Loans
Like some other VA benefits, the opportunity to apply for a VA loan is not contingent on you being a retiree versus having separated from the military without retiring. We mention this frequently in this section; it would be easy to assume that since military retirement pay is contingent on serving 20 years, other benefits might be as well. This is NOT true of VA loans.
VA mortgages require a minimum amount of time in uniform. They do not require a 20-year military career and junior enlisted qualify for the same VA mortgage options after they have served the required time the same as high-ranking career military members.
Retirees and veterans who did not retire are free to explore their VA loan options. VA loans allow you to use your military retirement pay, VA compensation for service-connected medical issues, and your civilian job where applicable to qualify for the mortgage.
What you cannot do, regardless of your status as a currently serving military member, veteran, or military retiree, is to use the Post 9/11 GI Bill housing allowance as qualifying income. We mention this only because some don't realize this is true and make their immediate post-military plans based on potential income that won't be counted toward VA loan approval.
Read More: Questions and Answers about VA Home Loans
VA Counseling and Career Support
The Department of Veterans Affairs offers a Transition Assistance Program or TAP aimed at those who are about to retire or separate from military service. The VA official site notes that about a quarter of a million service members make the switch from serving to civilian life each year.
TAP includes help one year from your retirement or separation date and there is a full day of VA-specific transition assistance offered through the program VA Benefits And Services. The VA official site describes this training as including "interactive exercises, real examples, and covers topics important to you like family support, disability compensation, education, and health care benefits."
Transition Help For Women Veterans
There is also a health-related VA TAP program specifically for women veterans through an online, self-paced option called Women's Health Transition Training. Offered to those currently serving and retired/separated alike, this option is available online and you can subscribe to the VA Center for Women Veterans emails for more information and updates about upcoming Women's Health Transition Training course opportunities.
Chapter 36 Benefits
The Department of Veterans Affairs offers veterans and military retirees a program called Personalized Career Planning and Guidance (PCPG). Also known simply as VA Chapter 36 benefits, you may qualify for educational and career guidance, planning, and resources under this program.
If you qualify for the GI Bill, you may qualify for Chapter 36 benefits. Other requirements include:
Being discharged under "conditions other than dishonorable" from active duty within six months. OR;
Being separated from active duty under conditions other than dishonorable not more than 1 year ago. Or;
You are a Veteran or service member eligible for VA educational assistance. Or;
You are a service member, Veteran, or dependent eligible for VA education benefits.
Under Chapter 36, you may qualify for career counseling, help finding a new path of study, and readjustment counseling that can help you make the transition from military member to veteran student. There is also resume support and career planning help offered under Chapter 36.
You can apply for these benefits in three ways; in person at a VA office, online using VA Form 28-8832, or you can apply online at the VA official site via Login.gov.
Applying online requires you to complete an initial questionnaire to determine the proper form for you as a veteran, active duty service member, retiree, etc.
Veteran Readiness and Employment (Chapter 31)
Military retirees and other veterans with service-connected disabilities that affect the ability to hold or find a job may qualify for the Department of Veterans Affairs Veteran Readiness and Employment program.
These benefits are sometimes referred to as Chapter 31 benefits or VR&E. You can apply for VR&E through the VA official site; to qualify you must have a VA disability rating of at least 10% and you must not have received a Dishonorable discharge.
Being approved for a VR&E program requires you to have at least one day of Post 9/11 GI Bill benefits remaining. Using VR&E benefits does not count against your GI Bill benefits.
Apply for VR&E benefits online, in person at a VA office, by calling the VA, or use a Veteran Service Organization.
Read More: What Are Veteran Service Organizations?
Veteran Healthcare Readjustment Services
The Department of Veterans Affairs offers transition care including mental health services for qualifying veterans who are transitioning from military to civilian life. The VA official site says it assigns VA Liaisons for healthcare at all major military medical treatment facilities to help in transitioning from military care to civilian care.
VA.gov says that since 2003, "VA Liaisons for Healthcare will meet with you early in your transition to ensure access to VA health care at the appropriate time in your recovery and rehabilitation process" where applicable. Not all veterans may need or require this support but it is available when needed at VA facilities nationwide.
Editor-in-Chief Joe Wallace is a 13-year veteran of the United States Air Force and a former reporter/editor for Air Force Television News and the Pentagon Channel. His freelance work includes contract work for Motorola, VALoans.com, and Credit Karma. He is co-founder of Dim Art House in Springfield, Illinois, and spends his non-writing time as an abstract painter, independent publisher, and occasional filmmaker.